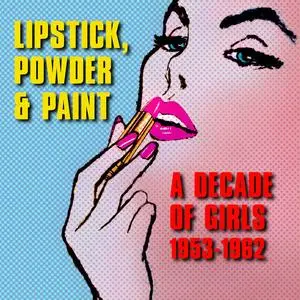 VA - Lipstick, Powder & Paint: A Decade of Girls 1953-1962 (2014)
MP3 CBR 320 kbps - 563 MB
3:38:25 | Pop, Light Music, Vocal, Country, R&B, Easy Listening | Label: Fantastic Voyage
Compiled by Austin Powell, the 3 CD set Lipstick, Powder & Paint salutes a decade of girls 1953-1962, and runs the gamut of country, R&B and easy listening, but is primarily pop music with chart appeal. Big names from Rosemary Clooney, Julie London, the Chordettes, Doris Day and Connie Francis to Petula Clark, the Crystals, Timi Yuro, the Marvelettes and Nancy Sinatra are present, so too are lesser-known artists like Lorie Mann, the Perry Sisters, Betsy Brye, Cindy Mann, Yolanda and Mimi Roman. Male record buyers didn't scream and reduce themselves to tears, but many would have dreamt of spending time with their favorite girl singer. Maybe yours is among the 90 tracks included on Lipstick, Powder & Paint.