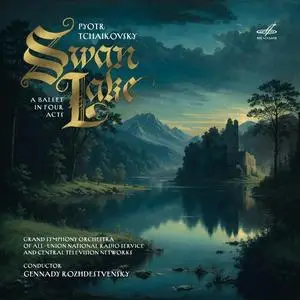 Gennady Rozhdestvensky, Grand Symphony Orchestra of All-Union National Radio Service - Tchaikovsky: Swan Lake, Op. 20 (2023)
FLAC (tracks), Lossless / MP3 320 kbps | 2:28:43 | 750 / 342 Mb
Genre: Classical
Rozhdestvensky was the son of conductor Nikolai Anosov Rozhdestvensky and soprano Natalya Rozhdestvenskaya. A pupil at the Gnesin School of Music and the Moscow Conservatory school for children, he entered the Conservatory in 1941 to study conducting with his father and piano with Lev Oborin. While still at the Conservatory, Rozhdestvensky conducted Tchaikovsky's Nutcracker at the Bolshoi Theater. Following his graduation in 1954, he was appointed assistant conductor at the Bolshoi and in 1956 made his first visit to England with the Bolshoi Ballet. In 1961, Rozhdestvensky was named artistic director of the Soviet Radio Symphony Orchestra, remaining there until 1974.