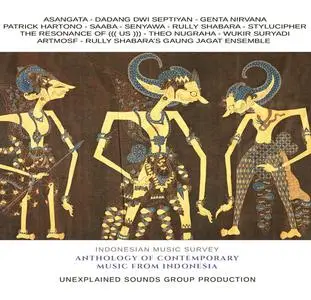 VA - Anthology of Contemporary Music From Indonesia (2020)
XLD Rip | FLAC (tracks, cue, log) - 342 MB | MP3 CBR 320 kbps - 163 MB
1:10:24 | Electronic, Experimental, Drone, Noise, Electroacoustic, Ambient, Neofolk | Label: Unexplained Sounds Group
For many centuries Indonesia, from the Malay Peninsula throughout the vast archipelago, has been subjected to successive foreign cultural invasions which have left their deep imprint on the indigenous way of life. Among the first was the Mongolian intrusion from central Asia. A later cultural wave came from India when Hindu merchants and immigrants introduced Hinduism and Buddhism into the islands. Subsequently, about the 13th century A.D. Islamic influences penetrated the archipelago. Finally in the 16th century, Western culture and Christianity came into the picture. Although, after four centuries, Western civilization has by no means superseded the Islamic hold on Indonesia (90% of the population are Muslims), it has already reshaped the outward appearance of Indonesia life to a considerably extent. The cultural diversity is naturally reflected in the music.