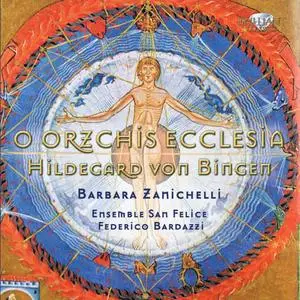 Barbara Zanichelli, Ensemble San Felice, Federico Bardazzi - Hildegard: O Orzchis Ecclesia (2011)
WEB | FLAC (tracks) - 274 MB | 58:07
Genre: Classical | Label: Brilliant Classics
The religious Hildegard von Bingen was known as 'The Sybil of the Rhine' on account of her visions, translated into music with prophetic charisma. This disc presents two sides of Hildegard, an instrument and a mirror, reflecting her divine revelations, through the sound of her words both spoken and sung. The performances are from a specialised early-music ensemble, based in Florence, who have undertaken study of the original manuscripts and (perhaps more unusually) performed the music in public before making this testament to the art of one of music's most singular women, who is still perhaps more famed for her life than her music.