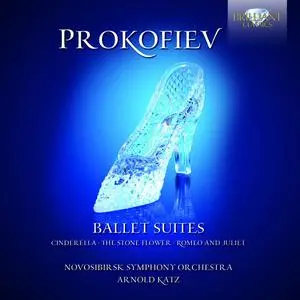 Novosibirsk Symphony Orchestra, Arnold Katz - Prokofiev: Ballet Suites (2012)
WEB | FLAC (tracks) - 382 MB | 01:18:20
Genre: Classical | Label: Brilliant Classics
In his ballets the great Soviet composer Sergei Prokofiev continues the long and famous tradition of Russian ballet music, which culminated in the immortal ballets of Tchaikovsky (Nutcracker, Swan Lake). Prokofiev's genius for characterisation produced such classical "hits" as the Montagues & Capulets (often used in films, commercial and even sporting events!), and the Love Scene of Romeo and Juliet. Also the Cinderella-Waltz from the Cinderella Suite became an evergreen. The ballet Stone Flower is the last Soviet ballet Prokofiev wrote, and although it is little known, it contains music of great beauty and power on an equal level as the famous ballets.