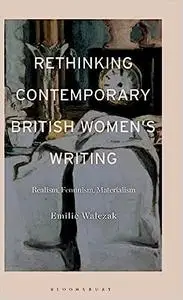 Emilie Walezak, "Rethinking Contemporary British Women's Writing: Realism, Feminism, Materialism"
English | ISBN: 1350171352 | 2021 | 184 pages | PDF | 3 MB
Providing close readings of well-known British realist writers including Pat Barker, A. S. Byatt, Rose Tremain, Sarah Hall, Bernadine Evaristo and Zadie Smith, this book uses new directions in material and posthuman feminism to examine how contemporary women writers explore the challenges we collectively face today.
Walezak redresses negative assumptions about realism's alleged conservatism and demonstrates the vitality and relevance of the realist genre in experimenting with the connections between individual and collective voices, human and non-human meditations, local and global scales, and author and reader.
Considering how contemporary realist writing is attuned to pressing issues including globalization, climate change, and interconnectivity, this book provides innovative new ways of reading realism, examines how these writers are looking to reinvent the genre, and shows how realism helps reimagine our place in the world.
Read more