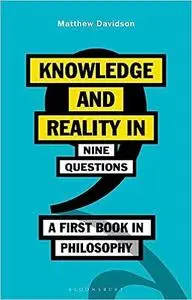 Matthew Davidson, "Knowledge and Reality in Nine Questions: A First Book in Philosophy"
English | ISBN: 135016142X | 2021 | 144 pages | PDF | 1436 KB
Have you ever wondered what makes the questions a philosopher asks different from those asked by a non-philosopher? Is it a desire to seek the truth? Is it their reliance on scientific methods? Or is a philosophical question one that deals with the world we live in?
For the Ancient Greek thinkers Plato and Aristotle, questions about philosophy concerned the fundamental nature of reality and how we know about it. This introduction is based on their views, boiling philosophy down to nine essential questions and using them to reveal how we think about the major topics of metaphysics (the nature of reality) and epistemology (knowledge).
From 'What Am I?' to 'What is Time?', this is a fast-paced tour of the Western philosophical tradition. It walks you through age-old questions about God, free will, skepticism, truth and perception and along the way introduces you to distinctive features and methods including:
· How to differentiate between a good and bad arguments
· How to draw distinctions
· How to clarify the terms and concepts used in common philosophical debates
· How to tackle a thought experiment
By unpacking and exploring each of the nine questions in turn, you find out what it really means to do philosophy. Not only do you emerge with a better understanding of the conceptual landscape around essential philosophical questions, you come to realize why it is that philosophers agree on very little. Here is a golden opportunity to think about some of the most important questions asked by philosophers over across the history of Western philosophical thought and discover why they still matter.
Read more