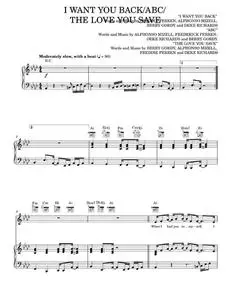 I Want You Back - Berry Gordy, The Jackson 5 (Piano-Vocal-Guitar)
English | 7 pages | PDF | 4.7 MB
This sheetnotes file contains the classic hit single "I Want You Back" by The Jackson 5, originally released in 1969. The file contains 7 pages of Piano-Vocal-Guitar sheet music for the song, composed by Berry Gordy, Freddie Perren, Alphonso Mizell, and Deke Richards. The sheet music is presented in 62 measures in the keys of A♭ major and F minor.