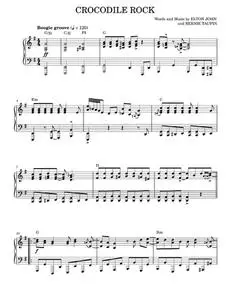 Crocodile rock - Elton John (Piano Solo)
English | 5 pages | PDF | 4.5 MB
This sheet music is a piano solo arrangement of Elton John's popular song, "Crocodile Rock". Composed by Elton John and Bernie Taupin, it includes 5 pages in the key of G Major and E Minor, with a total of 69 measures. It's an essential piece for any Elton John enthusiast, as well as for any musician looking to learn a classic, popular song.