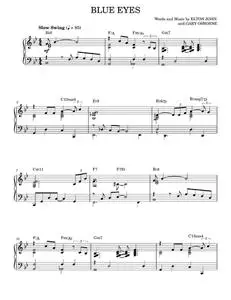 Blue Eyes - Elton John (Piano Solo)
English | 4 pages | PDF | 3.5 MB
This sheetnotes file captures Elton John's song "Blue Eyes" as a stunning piano solo. Composed by Elton John and Gary Osborne, it is arranged in 57 measures in a B♭ major/G minor key signature. It includes 4 pages of sheetnotes, making it a great resource for pianists who want to learn and perform the song.