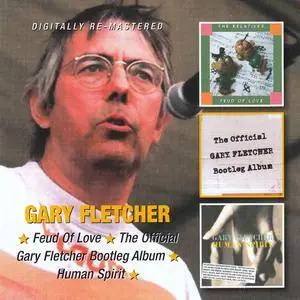 Gary Fletcher - Feud Of Love; Official Gary Fletcher Bootleg Album; Human Spirit
3 LPs in 2 CD, Remastered Reissue 2013
EAC | FLAC | Image (Cue&Log) ~ 842 Mb | Mp3 (CBR320) ~ 326 Mb | Scans ~ 125 Mb
Pop/Rock, Folk Rock, Blues Rock, Blues | Label: BGO | # BGOCD1092 | 02:22:36
Retrospective round up of Blues Band Gary Fletcher's entire oeuvre. These two CDs contain most of the tracks that appeared on three CDs: 'Feud Of Love' by The Relatives, 'The Official Gary Fletcher Bootleg Album' and 'Human Spirit', released in 1997, 2004 and 2007 respectively. When I say 'most of the tracks', the only ones left off are songs which appear on two of the albums and this occurred because the GF Bootleg CD was effectively a compilation of demos, some of which appeared in their final form on 'Human Spirit'. Gary is currently touring with the Blues Band and will promoting the album along the way. Digitally remastered and slipcased and with new notes.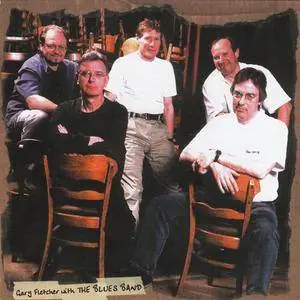 Tracklist:
CD1:

'Feud Of Love' by The Relatives (1997)

01. More Than Just Love (4:14)
02. Commuter Blues (4:24)
03. Dangerous Times (4:53)
04. Are You Sure Or What? (3:37)
05. The Caring Elghties (5:19)
06. Devoted (3:53)
07. The Best Of My Heart (3:41)
08. Why Me? (4:00)
09. Sometimes You'll Win (5:05)
10. God Knows (3:11)
11. Summer Fuss (5:58)
12. T.B.S. (2:11)

The Official Gary Fletcher Bootleg Album (2004):

13. World Gone Crazy (4:58)
14. It Takes The Blues To See (4:05)
15. The Other Side Of The Street (3:22)
16. Brand New Start (3:46)
17. Greenstuff (3:32)

CD2:

01. Help Me (4:21)
02. Watch My Lips (3:56)
03. You've Got To Choose (3:54)
04. Stepping Out On Main Street (3:03)
05. Told No Lies (4:16)
06. Take Me To The Red Line (3:26)

Human Spirit (2007)

07. Payback (3:29)
08. May You Now Find Peace (4:44)
09. Can't Get Arrested (3:42)
10. Born Too Pretty (5:18)
11. You Can't Quit Your Love For Me (3:59)
12. Wake Me When It's Over (3:04)
13. So Lonely (4:33)
14. Solanki's Knife (4:12)
15. A Lie Is A Lie (3:21)
16. Too Much (4:46)
17. You Are True (3:42)
18. You Took Me To The Edge (4:42)
Exact Audio Copy V1.1 from 23. June 2015

Отчёт EAC об извлечении, выполненном 1. августа 2017, 13:36

Gary Fletcher / Feud Of Love / The Official Gary Fletcher Bootleg Album / Human Spirit CD1

Дисковод: PIONEER DVD-RW DVR-221L Adapter: 0 ID: 0

Режим чтения : Достоверность
Использование точного потока : Да
Отключение кэша аудио : Да
Использование указателей C2 : Нет

Коррекция смещения при чтении : 6
Способность читать области Lead-in и Lead-out : Нет
Заполнение пропущенных сэмплов тишиной : Да
Удаление блоков с тишиной в начале и конце : Нет
При вычислениях CRC использовались нулевые сэмплы : Да
Интерфейс : Установленный внешний ASPI-интерфейс

Выходной формат : Пользовательский кодировщик
Выбранный битрейт : 128 kBit/s
Качество : Высокий
Добавление ID3-тега : Нет
Утилита сжатия : C:\Program Files\Exact Audio Copy\FLAC\FLAC.EXE
Дополнительные параметры : -V -8 %source%


TOC извлечённого CD

Трек | Старт | Длительность | Начальный сектор | Конечный сектор
––––––––––––––––––––––––––––––––––-
1 | 0:00.00 | 4:13.61 | 0 | 19035
2 | 4:13.61 | 4:23.50 | 19036 | 38810
3 | 8:37.36 | 4:53.03 | 38811 | 60788
4 | 13:30.39 | 3:37.17 | 60789 | 77080
5 | 17:07.56 | 5:19.15 | 77081 | 101020
6 | 22:26.71 | 3:52.55 | 101021 | 118475
7 | 26:19.51 | 3:41.15 | 118476 | 135065
8 | 30:00.66 | 3:59.38 | 135066 | 153028
9 | 34:00.29 | 5:04.45 | 153029 | 175873
10 | 39:04.74 | 3:11.32 | 175874 | 190230
11 | 42:16.31 | 5:57.73 | 190231 | 217078
12 | 48:14.29 | 2:10.52 | 217079 | 226880
13 | 50:25.06 | 4:58.09 | 226881 | 249239
14 | 55:23.15 | 4:05.37 | 249240 | 267651
15 | 59:28.52 | 3:21.48 | 267652 | 282774
16 | 62:50.25 | 3:45.59 | 282775 | 299708
17 | 66:36.09 | 3:31.51 | 299709 | 315584


Характеристики диапазона извлечения и сообщения об ошибках

Выбранный диапазон

Имя файла D:\Мусор\Gary Fletcher - Feud Of Love , The Official Gary Fletcher Bootleg Album , Human Spirit CD1 - 2013.wav

Пиковый уровень 100.0 %
Скорость извлечения 8.1 X
Качество диапазона 99.9 %
CRC теста 3A342526
CRC копии 3A342526
Копирование… OK

Ошибок не произошло


AccurateRip: сводка

Трек 1 отсутствует в базе данных
Трек 2 отсутствует в базе данных
Трек 3 отсутствует в базе данных
Трек 4 отсутствует в базе данных
Трек 5 отсутствует в базе данных
Трек 6 отсутствует в базе данных
Трек 7 отсутствует в базе данных
Трек 8 отсутствует в базе данных
Трек 9 отсутствует в базе данных
Трек 10 отсутствует в базе данных
Трек 11 отсутствует в базе данных
Трек 12 отсутствует в базе данных
Трек 13 отсутствует в базе данных
Трек 14 отсутствует в базе данных
Трек 15 отсутствует в базе данных
Трек 16 отсутствует в базе данных
Трек 17 отсутствует в базе данных

Ни одного трека нет в базе AccurateRip

Конец отчёта

==== Контрольная сумма отчёта BFC4C3BAF751480A7259FF31DA038B3A33AAADBF45F0059B2DD0F6F1422BB4C2 ====
foobar2000 1.2 / Dynamic Range Meter 1.1.1
log date: 2017-08-01 19:09:23

––––––––––––––––––––––––––––––––––––––––
Analyzed: Gary Fletcher / Feud Of Love / The Official Gary Fletcher Bootleg Album / Human Spirit CD1
––––––––––––––––––––––––––––––––––––––––

DR Peak RMS Duration Track
––––––––––––––––––––––––––––––––––––––––
DR10 0.00 dB -12.00 dB 4:14 01-More Than Just Love
DR9 0.00 dB -11.15 dB 4:24 02-Commuter Blues
DR10 0.00 dB -13.90 dB 4:53 03-Dangerous Times
DR11 0.00 dB -12.46 dB 3:37 04-Are You Sure Or What?
DR12 0.00 dB -13.92 dB 5:19 05-The Caring Elghties
DR10 0.00 dB -12.36 dB 3:53 06-Devoted
DR10 0.00 dB -13.12 dB 3:41 07-The Best Of My Heart
DR9 0.00 dB -11.71 dB 4:00 08-Why Me?
DR11 0.00 dB -12.34 dB 5:05 09-Sometimes You'll Win
DR11 0.00 dB -15.13 dB 3:11 10-God Knows
DR12 0.00 dB -14.28 dB 5:58 11-Summer Fuss
DR13 0.00 dB -16.89 dB 2:11 12-T.B.S.
DR12 0.00 dB -14.90 dB 4:58 13-World Gone Crazy
DR11 0.00 dB -12.86 dB 4:05 14-It Takes The Blues To See
DR11 0.00 dB -11.83 dB 3:22 15-The Other Side Of The Street
DR11 0.00 dB -12.23 dB 3:46 16-Brand New Start
DR12 0.00 dB -13.42 dB 3:32 17-Greenstuff
––––––––––––––––––––––––––––––––––––––––

Number of tracks: 17
Official DR value: DR11

Samplerate: 44100 Hz
Channels: 2
Bits per sample: 16
Bitrate: 816 kbps
Codec: FLAC
================================================================================
Exact Audio Copy V1.1 from 23. June 2015

Отчёт EAC об извлечении, выполненном 1. августа 2017, 14:09

Gary Fletcher / Feud Of Love / The Official Gary Fletcher Bootleg Album / Human Spirit CD2

Дисковод: PIONEER DVD-RW DVR-221L Adapter: 0 ID: 0

Режим чтения : Достоверность
Использование точного потока : Да
Отключение кэша аудио : Да
Использование указателей C2 : Нет

Коррекция смещения при чтении : 6
Способность читать области Lead-in и Lead-out : Нет
Заполнение пропущенных сэмплов тишиной : Да
Удаление блоков с тишиной в начале и конце : Нет
При вычислениях CRC использовались нулевые сэмплы : Да
Интерфейс : Установленный внешний ASPI-интерфейс

Выходной формат : Пользовательский кодировщик
Выбранный битрейт : 128 kBit/s
Качество : Высокий
Добавление ID3-тега : Нет
Утилита сжатия : C:\Program Files\Exact Audio Copy\FLAC\FLAC.EXE
Дополнительные параметры : -V -8 %source%


TOC извлечённого CD

Трек | Старт | Длительность | Начальный сектор | Конечный сектор
––––––––––––––––––––––––––––––––––-
1 | 0:00.00 | 4:21.04 | 0 | 19578
2 | 4:21.04 | 3:55.55 | 19579 | 37258
3 | 8:16.59 | 3:54.17 | 37259 | 54825
4 | 12:11.01 | 3:02.64 | 54826 | 68539
5 | 15:13.65 | 4:15.73 | 68540 | 87737
6 | 19:29.63 | 3:26.31 | 87738 | 103218
7 | 22:56.19 | 3:28.57 | 103219 | 118875
8 | 26:25.01 | 4:43.45 | 118876 | 140145
9 | 31:08.46 | 3:42.28 | 140146 | 156823
10 | 34:50.74 | 5:18.10 | 156824 | 180683
11 | 40:09.09 | 3:58.74 | 180684 | 198607
12 | 44:08.08 | 3:04.12 | 198608 | 212419
13 | 47:12.20 | 4:32.56 | 212420 | 232875
14 | 51:45.01 | 4:12.06 | 232876 | 251781
15 | 55:57.07 | 3:20.73 | 251782 | 266854
16 | 59:18.05 | 4:46.24 | 266855 | 288328
17 | 64:04.29 | 3:41.38 | 288329 | 304941
18 | 67:45.67 | 4:42.08 | 304942 | 326099


Характеристики диапазона извлечения и сообщения об ошибках

Выбранный диапазон

Имя файла D:\Мусор\Gary Fletcher - Feud Of Love , The Official Gary Fletcher Bootleg Album , Human Spirit CD2 - 2013.wav

Пиковый уровень 100.0 %
Скорость извлечения 8.4 X
Качество диапазона 100.0 %
CRC теста 6AAE5E56
CRC копии 6AAE5E56
Копирование… OK

Ошибок не произошло


AccurateRip: сводка

Трек 1 отсутствует в базе данных
Трек 2 отсутствует в базе данных
Трек 3 отсутствует в базе данных
Трек 4 отсутствует в базе данных
Трек 5 отсутствует в базе данных
Трек 6 отсутствует в базе данных
Трек 7 отсутствует в базе данных
Трек 8 отсутствует в базе данных
Трек 9 отсутствует в базе данных
Трек 10 отсутствует в базе данных
Трек 11 отсутствует в базе данных
Трек 12 отсутствует в базе данных
Трек 13 отсутствует в базе данных
Трек 14 отсутствует в базе данных
Трек 15 отсутствует в базе данных
Трек 16 отсутствует в базе данных
Трек 17 отсутствует в базе данных
Трек 18 отсутствует в базе данных

Ни одного трека нет в базе AccurateRip

Конец отчёта

==== Контрольная сумма отчёта 90BD65F2B2E9F82F5533D2FDC37DADA374102EF90ACC60A8C386B47B19BD7F84 ====
foobar2000 1.2 / Dynamic Range Meter 1.1.1
log date: 2017-08-01 19:09:51

––––––––––––––––––––––––––––––––––––––––
Analyzed: Gary Fletcher / Feud Of Love / The Official Gary Fletcher Bootleg Album / Human Spirit CD2
––––––––––––––––––––––––––––––––––––––––

DR Peak RMS Duration Track
––––––––––––––––––––––––––––––––––––––––
DR11 0.00 dB -12.64 dB 4:21 01-Help Me
DR11 0.00 dB -11.75 dB 3:56 02-Watch My Lips
DR10 0.00 dB -12.03 dB 3:54 03-You've Got To Choose
DR11 0.00 dB -12.36 dB 3:03 04-Stepping Out On Main Street
DR11 0.00 dB -12.12 dB 4:16 05-Told No Lies
DR14 0.00 dB -15.35 dB 3:26 06-Take Me To The Red Line
DR10 0.00 dB -11.40 dB 3:29 07-Payback
DR9 -0.68 dB -12.02 dB 4:44 08-May You Now Find Peace
DR10 -0.07 dB -11.57 dB 3:42 09-Can't Get Arrested
DR12 0.00 dB -13.71 dB 5:18 10-Born Too Pretty
DR9 0.00 dB -11.53 dB 3:59 11-You Can't Quit Your Love For Me
DR8 -1.96 dB -12.75 dB 3:04 12-Wake Me When It's Over
DR12 0.00 dB -13.75 dB 4:33 13-So Lonely
DR9 -2.40 dB -14.18 dB 4:12 14-Solanki's Knife
DR10 0.00 dB -11.51 dB 3:21 15-A Lie Is A Lie
DR11 0.00 dB -12.28 dB 4:46 16-Too Much
DR11 0.00 dB -12.33 dB 3:42 17-You Are True
DR10 0.00 dB -12.30 dB 4:42 18-You Took Me To The Edge
––––––––––––––––––––––––––––––––––––––––

Number of tracks: 18
Official DR value: DR10

Samplerate: 44100 Hz
Channels: 2
Bits per sample: 16
Bitrate: 836 kbps
Codec: FLAC
================================================================================