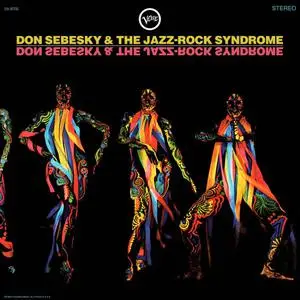 Don Sebesky & The Jazz-Rock Syndrome - Don Sebesky & The Jazz-Rock Syndrome (1968)
FLAC (tracks) - 253 MB
33:15 | Scans Inlcluded | Jazz-Rock, Jazz-Funk | Label: Verve
Big bands are not coming back. Let's face it. The old style, rooted in the swing era, is an anachronism. Those bands will hang around only as long as that generation is alive; they are relics, museum pieces-still groovy, but relics nonetheless.
Basie, Herman, James and the few others still carrying on will not survive their own generation. They have no issue; young cats do not generally form swing bands these days. They play Rock and Roll, whether we like it or not.
But something else has been coming-on lately. It has been called "Jazz-Rock", a budding love affair between a raw but vital, enthusiastic child and a somewhat weatherbeaten but dapper older gentleman.
Basically the one-eyed monster killed old-style, dance bands, along with a lot of other things. For awhile, when the tube was still a novelty, nobody did anything else at all but sit in front of it. Then came the Twist and people began moving out again to dance. The Twist really buried big bands: four electrified kids could produce the volume of fifteen unamplified guys, a lot cheaper. And the other eleven musicians starved or became school teachers.
It may have been a blessing in the long run. The new beat spawned dancing as a worldwide participation sport. For the first time, you don't have to know the steps; anything goes. Just move out on the floor, stay loose and swing.
As the dances became more abstract and creative, more permissive and popular, the music kept pace-becoming more and more complex until, suddenly, we find Jazz peeking through the door again. Many straight-ahead Rock groups are beginning to add horns. Some will inevitably add more and, since there are few sounds as exciting as seven brass and five saxophones wailing, new-style big bands will soon begin criss-crossing the country just like the old once did; not museum pieces, but contemporary, communicating dance organizations. People will once more dance to big bands—which will sound like this record.
Though he just turned 30, Don Sebesky is a product of the big band tradition, having played trombone with Warren Covington, Stan Kenton, Claude Thornhill and Maynard Ferguson. His big writing break came through Maynard and he has since scored albums for Wes Montgomery, Astrud Gilberto, Erroll Garner and Kenny Burrell.
When Don started to think about this album, he "wanted to come up with something new. It seemed to me that the style in which had been writing traditional Holman-influenced Basie-had become a dead end for me. It was either a maiter of getting more complex and involved, or simpler. I chose the latter, or rather it was chosen for me. I discovered the Mamas and the Papas and their light, groovy approach influenced my thinking tremendously."
So there are very few hard, "shouting" big band moments here. Instead, it sings with unisons and counterpoint. The tunes themselves reflect the Mamas and the Papas influence: "Somebody Groovy", a John Phillips tune, "Dancing in the Street", in which Don based the writing on Cass Elliot's phrasing of the same tune, and "Big Mama Cass" which is of course dedicated to her.
The musicians who were all chosen "for their ability to swing in a Jazz way and yet relate to a Rock feel at the same time"-evidence obvious enthusiasm playing Sebesky's music. I particularly call vour attention to Don MacDonald's drums, to Chuck Rainey's really astounding Fender bass-and to two young men you're going to be hearing from a lot, Larry Coryell and Dick Spencer.
Coryell, who's already made quite a name for himself with the Gary Burton group, is perhaps the personification of the Jazz-Rock movement among musicians. He plays real Jazz guitar–writing his own line, improvising on the changes but unlike some of his colleagues he has also taken the time and trouble to master the electronic effects available, on the amp. As a result, Coryell has virtually cornered the market on the wailing, haunting kind of guitar you hear on "Dancing in the Street" and, most especially. on "The Word a too-much tour de force right down to the closing cadenza.
Spencer likewise epitomizes the new generation of horn men-guys who grew up with Jazz and Rock in the unswerving belief that the twain shall meet. It's his soulful alto that puts the groove in "Somebody Groovy", the personality in the portrait of "Big Mama Cass". On "Meet a Cheetah", Spencer gets together with Joe Beck (another very now guitarist) and Sebesky himself-who, like Bob Brookmeyer, turns out to be a trombonist who also plays a mean piano. And organ (on "I Dig Rock 'n' Roll Music"). And harpsichord (on "Banana Flower"). And clavinet (dig his dialogue with Coryell on "The Word").
Don feels that "this is the first big band of the Rock era, bringing the influences of traditional big bands and combining them with the music being written today by John Phillips, the Beatles, the Beach Boys and other meaningful groups in an instrumental way, featuring a good strong rhythm section and blues-influenced soloists."
Obviously, Don Sebesky has found an alternative, a way to move ahead while still acknowledging his musical roots. Jazz-Rock is the turning point. Listen, dance and rejoice to it.
MICHAEL ZWERIN
Tracklist
01. The Word (3:48)
02. Shake A Lady (3:47)
03. Banana Flower (2:52)
04. Meet A Cheetah (4:09)
05. I Dig Rock 'N' Roll Music (2:06)
06. Never My Love (3:12)
07. Dancing In The Streets (3:23)
08. Somebody Groovy (4:14)
09. You've Got Your Troubles (2:58)
10. Big Mama Cass (2:57)
–––––––––––-
DON'T MODIFY THIS FILE
–––––––––––-
PERFORMER: auCDtect Task Manager, ver. 1.6.0 RC1 build 1.6.0.1
Copyright © 2008-2010 y-soft. All rights reserved
http://y-soft.org
ANALYZER: auCDtect: CD records authenticity detector, version 0.8.2
Copyright © 2004 Oleg Berngardt. All rights reserved.
Copyright © 2004 Alexander Djourik. All rights reserved.
FILE: 10. Big Mama Cass.flac
Size: 21400568 Hash: 431EDE3E7C278F32DDC0BD42FB22BCAA Accuracy: -m8
Conclusion: CDDA 100%
Signature: C830B36FA963A507CFA31276AB59DB99E71D136A
FILE: 09. You've Got Your Troubles.flac
Size: 18907434 Hash: D98A24D8718245B1FFB421ABB87A8435 Accuracy: -m8
Conclusion: CDDA 100%
Signature: 71D440FA16601F992273090F2FFE683C144D6B94
FILE: 08. Somebody Groovy.flac
Size: 29105353 Hash: 9E824924A0466F9E63ADD79E5AF2C00A Accuracy: -m8
Conclusion: CDDA 100%
Signature: F8B7AF2A4DC2D4BC4E570BDCE62C33C6862ECFF8
FILE: 07. Dancing In the Street.flac
Size: 25005168 Hash: 28947D34A7EB4D9C501D4FAC1F3BB0B0 Accuracy: -m8
Conclusion: CDDA 100%
Signature: E373F63D6206FAC371CB7E6DFC83442B4EABCAFE
FILE: 06. Never My Love.flac
Size: 18860072 Hash: 3144EC7B8C51733B78EECB8637DDCC35 Accuracy: -m8
Conclusion: CDDA 100%
Signature: 84AA6A8885A80ACF7120934C7A8A718A3DA2CF57
FILE: 05. I Dig Rock'n'Roll Music.flac
Size: 14674151 Hash: 232CC92EC591B51998FF18B8A0C02BC3 Accuracy: -m8
Conclusion: CDDA 100%
Signature: 677D7E962C06BEAA43E802D20F6D7BF3C7B63955
FILE: 04. Meet a Cheetah.flac
Size: 27066137 Hash: E1A6C6F27C24E1ED94D424BBB18F5AED Accuracy: -m8
Conclusion: CDDA 100%
Signature: 0126EDB726C6B73710712910D017EE50074611A2
FILE: 03. Banana Flower.flac
Size: 17487688 Hash: C0238446229F1AD90EB4CDFAC48485FC Accuracy: -m8
Conclusion: CDDA 100%
Signature: 6A259653E1587103CC119092CB09971C5F26C5DF
FILE: 02. Shake a Lady.flac
Size: 27481914 Hash: 90E811BFC75F4056E0079BEBB8F8A098 Accuracy: -m8
Conclusion: CDDA 100%
Signature: 6157E2A0AE848EF8BB265F04664E228174AB19A3
FILE: 01. The Word.flac
Size: 28098995 Hash: CD2B8FF4E7478012E4267402E804E0D8 Accuracy: -m8
Conclusion: CDDA 100%
Signature: EB1559D2AC178A23600FC0E198C0AE3B5025C8B5