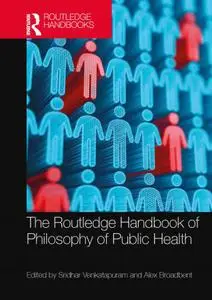 The Routledge Handbook of Philosophy of Public Health
English | 2022 | ISBN: 9781315675411 | 445 pages | True PDF | 7.86 MB
In comparison to medicine, the professional field of public health is far less familiar. What is public health, and perhaps as importantly, what should public health be or become? How do causal concepts shape the public health agenda? How do study designs either promote or demote the environmental causal factors or health inequalities? How is risk understood, expressed, and communicated? Who is public health research centered on? How can we develop technologies so the benefits are more fairly distributed? Do people have a right to public health? How should we integrate ethics into public health practice?
The Routledge Handbook of Philosophy of Public Health addresses these questions and more, and is the first collection of its kind. Comprising 26 chapters by an international and interdisciplinary team of contributors, the handbook is divided into four clear parts
Concepts and distinctions
Reasons and actions
Distribution and inequalities
Rights and duties.
The Routledge Handbook of Philosophy of Public Health is a field-defining and sustained reflection on the various ethical, political, methodological, and conceptual aspects of global public health. As such it is an essential reference source for students and scholars working in political philosophy, bioethics, public health ethics, and the philosophy of medicine, as well as for professionals and researchers in related fields such as public health, health economics, and epidemiology.