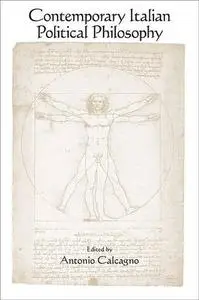 Contemporary Italian Political Philosophy (SUNY series in Contemporary Italian Philosophy) edited by Antonio Calcagno
English | September 1, 2015 | ISBN: 1438458533, 1438458525 | True EPUB | 326 pages | 0.7 MB
Italy has a rich philosophical legacy, and recent developments and movements in its political philosophy have produced a significant body of thought by internationally renowned philosophers working on questions and themes such as the critique of neoliberalism, statehood, politics and culture, feminism, community, the stranger, and the relationship between politics and action.
This volume brings this conversation to English-language readers, considering well-known Italian philosophers such as Vattimo, Agamben, Esposito, and Negri, as well as philosophers with whom English-language readers are less acquainted, such as Luce Fabbri, Adriana Cavarero, and Lea Melandri. In addition, the essays extend the conversation beyond the realm of Italian philosophy, bringing its thinkers into dialogue with philosophical figures including Badiou, Marx, Merleau-Ponty, Deleuze and Guattari, Adorno, Arendt, Foucault, Wittgenstein, and the Peruvian historian and sociologist Anibal Quijano.