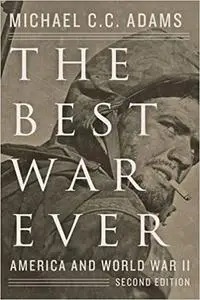 Michael C. C. Adams, "The Best War Ever: America and World War II"
English | 2015 | ISBN: 1421416670 | EPUB | pages: 184 | 2.3 mb
The most readable―and searingly honest―short book ever written on this pivotal conflict.
Was World War II really such a "good war"? Popular memory insists that it was, in fact, "the best war ever." After all, we knew who the enemy was, and we understood what we were fighting for. The war was good for the economy. It was liberating for women. A battle of tanks and airplanes, it was a "cleaner" war than World War I. Although we did not seek the conflict―or so we believed―Americans nevertheless rallied in support of the war effort, and the nation's soldiers, all twelve million of them, were proud to fight. But according to historian Michael C. C. Adams, our memory of the war era as a golden age is distorted. It has left us with a misleading―even dangerous―legacy, one enhanced by the nostalgia-tinged retrospectives of Stephen E. Ambrose and Tom Brokaw. Disputing many of our common assumptions about the period, Adams argues in The Best War Ever that our celebratory experience of World War II is marred by darker and more sordid realities.
In the book, originally published in 1994, Adams challenges stereotypes to present a view of World War II that avoids the simplistic extremes of both glorification and vilification. The Best War Ever charts the complex diplomatic problems of the 1930s and reveals the realities of ground combat: no moral triumph, it was in truth a brutal slog across a blasted landscape. Adams also exposes the myth that the home front was fully united behind the war effort, demonstrating how class, race, gender, and age divisions split Americans. Meanwhile, in Europe and Asia, shell-shocked soldiers grappled with emotional and physical trauma, rigorously enforced segregation, and rampant venereal disease.
In preparing this must-read new edition, Adams has consulted some seventy additional sources on topics as varied as the origins of Social Security and a national health system, the Allied strategic bombing campaign, and the relationship of traumatic brain injuries to the adjustment problems of veterans. The revised book also incorporates substantial developments that have occurred in our understanding of the course and character of the war, particularly in terms of the human consequences of fighting. In a new chapter, "The Life Cycle of a Myth," Adams charts image-making about the war from its inception to the present. He contrasts it with modern-day rhetoric surrounding the War on Terror, while analyzing the real-world consequences that result from distorting the past, including the dangerous idea that only through (perpetual) military conflict can we achieve lasting peace.