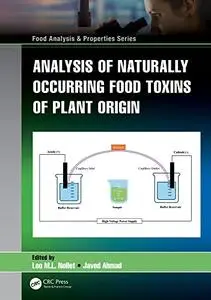 Analysis of Naturally Occurring Food Toxins of Plant Origin (Food Analysis & Properties) edited by Leo M. L. Nollet, Javed Ahmad
English | December 2, 2022 | ISBN: 1032080302 | True EPUB | 268 pages | 2.9 MB
Natural toxins are toxic compounds that are naturally produced by living organisms. These toxins are not harmful to the organisms themselves, but they may be toxic to other creatures, including humans, when eaten. These chemical compounds have diverse structures and differ in biological function and toxicity. Some toxins are produced by plants as a natural defense mechanism against predators, insects, or microorganisms, or as a consequence of infestation with microorganisms, such as mold, in response to climate stress (such as drought or extreme humidity). Well-known groups of natural toxins of plant origin are: cyanogenic glycosides, pyrrolizidine alkaloids, furocoumarins, lectins, and glycoalkaloids. These plant-origin natural toxins can cause a variety of adverse health effects and pose a serious health threat to both humans and livestock.
Analysis of Naturally Occurring Food Toxins of Plant Origin is divided into three sections that provide a detailed overview of different classes of food toxins that are naturally found in plants, including various analytical techniques used for their structural characterization, identification, detection, and quantification. This book provides in-depth information and comprehensive discussion over quantitative and qualitative analysis of natural toxins in plant-based foods.
Key Features:
• Provides a detailed overview of different classes of natural toxins found in plants.
• Explains how IR, NMR, and mass spectrometry are utilized in characterization and identification.
• Describes applicability of HPLC, LC-MS, GC-MS, and HPTLC techniques for detection and quantification.
• Discusses progress in the field related to capillary electrophoresis, ELISA, and biosensors for quantitative application of these techniques.