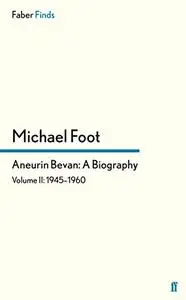 Michael Foot, "Aneurin Bevan: A Biography: Volume 2: 1945-1960"
English | 2009 | ISBN: 0571248373 | EPUB | pages: 700 | 1.6 mb
Michael Foot's biography of Nye Bevan is one of the great political biographies of the last century. Originally published in two volumes (1962 and 1973), Faber Finds is reissuing it in the same way. The first volume covers Bevan's life from his birth in 1897 to his entry into Atlee's Cabinet in 1945: the second covers his years from 1945 to his death in 1960. Nye Bevan, forever associated with the formation of the National Health Service, is arguably Britain's greatest socialist. This biography, written with passion and unashamed admiration, is a magnificent celebration of a great life.